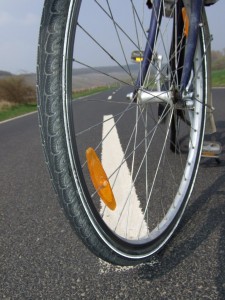 Do you listen to music while you bike? It's sort of an ongoing debate among cyclists. Some think it makes the miles go by more quickly and others think music is a dangerous distraction that contributes to accidents. Ultimately it's a personal choice. If you're comfortable listening to music while biking, this post is for you.
Songs for Bike Trips
1. "Drive My Car," The Beatles. Crank up your drivetrain with this blaster from the Fab Four.
2. "Down Under," Men at Work. Catchy '80s tune to keep your energy up.
3. "Inna Gadda Da Vida," Iron Butterfly. It's 17 minutes long. It'll keep you amused for miles and miles.
4. "Slow Ride," Foghat. Your goal might be the opposite of this song's title, but this song will give you a charge.
5. "Detroit Grammar (Bad Meets Evil)," Eminem. Crank this up when you want to feel tough.
6. "Come Out and Play," The Offspring. A little '90s nostalgia for your ride.
7. "Low," Cracker. See above.
8. "Mykonos," Fleet Foxes. Something a little more chill for those cool-down miles.
9. "Hey Jude," the Beatles. Because it's one of the greatest songs ever, that's why.
10. "What is Life?", George Harrison. What better time to contemplate the big questions in life than on a long bike trip?
What about you? Add your favorite biking songs to the list! Drop them in the comments!